church youth conference themes
Here are the church youth conference themes to help as you plan the event for the church soon, we have great themes that can help the youth conference

We have prepared you 10 great church anniversary themes which includes scriptural verses .
looking for youth conference theme for your church here It is in 3 page and can choose any theme from there.
You can instantly download the themes and use them during the church event in your church.
Click the PayPal button below and you receive the digital page after paying a small fee of $5.99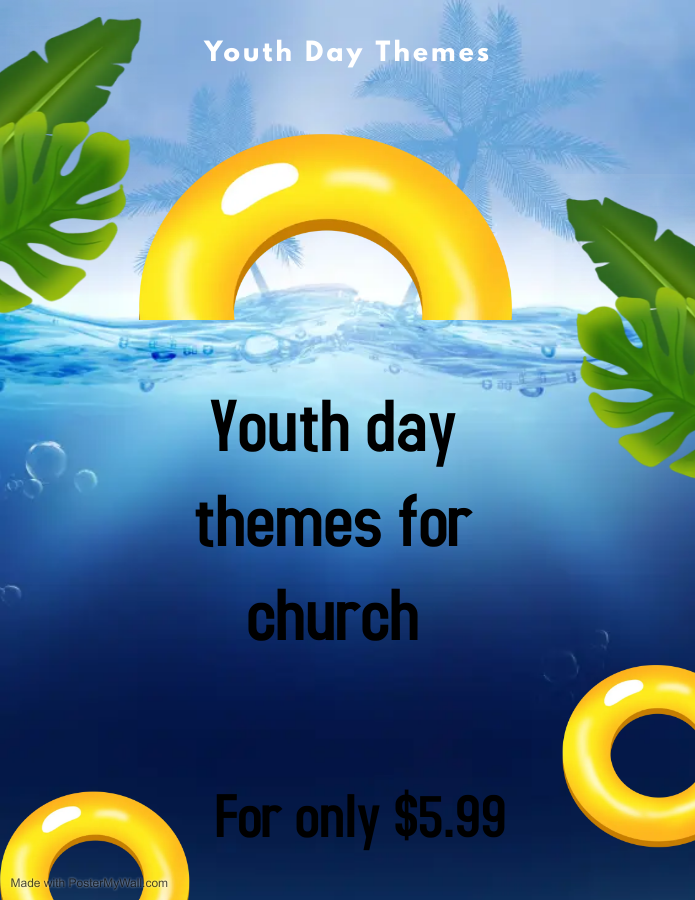 $5.99
10 GREAT THEMES FOR THE YOUTH CONFERENCE
The youth conference happening soon?
The great and original themes we have prepared for you below here will come at hand. We know how the theme can change the mood and align the youths who will attend the conference.
The themes below here are in PDF and your work is to download and choose the best among the best, meaning all the themes are good for the occasion.
church youth conference themes

Where else can you find great and original themes a part from here, and be sure that we can updating this site for more themes as the Holy Spirit inspires us.
We welcome to our site always, so that the Lord can bless us together.
Look at the sample themes we have below here for you that can show the extra mile we go to make sure you have original themes for an occasion in church.
church youth conference themes

THEME: KNOWING JESUS...YOU NEVER GO WRONG
KEY VERSE: JOHN 15:7
If you remain in me and my words remain in you, ask whatever you wish, and it will be done for you.
Paul is admonishing believers to abide in Christ in always and His word in them, this it the true words and good news that anyone who want to see life succeeding and moving forward need to hear.
As youths many times they find themselves confused and don't know what to do, during this conference, let them be reminded that Christ is author and finisher of their faith and they need to be in Him always.
Jesus has given a special invitation to anyone including the youths to abide in Him and allow His word to be in them, so that life can work well for them.
THEME: WALK BY FAITH AND NOT BY SIGHT
KEY VERSE: 2 CORINTHIANS 5:7
for we walk by faith, not by sight.
Paul while writing to the Corinthians reminding them concerning the love of God in Jesus. This is to encourage believers that life is found in Christ alone not matter what, this is to discourage believers from setting their eyes on temporal life which is passing away.
As youths majority want to be imitators of others, they want to copy latest fashion,music and so on.
During this conference let the youths be reminded to live by the word of Christ and not of men.
We are to prepare for you the themes that you can use during the youth conference you are going to have, your work is to download and have them in place.

themes for youth summit
Get FREE SAMPLE speech & letter


in the Email Today