How to be a good master of ceremony in church event

Here is how to be a good master of ceremony in church and a church mc script that you can use

We know and understand that it can be a tall order to be an church mc of any program in church if you have never been before.
We have been there before where you are currently and understand you completely.
You would wish to be a good master of ceremony but want to tell you that, yes you can but everything comes with practice and also as you present will increase your confidence.
You personality also matters a lot...
You need to know if you are an introvert or extrovert. Take a stock of you so that you can know yourself.
Once you know yourself, you will be able to play around when  it comes to emceeing a church function. The thing is you need to master the art.
Let us now look at some of the activities that you can embrace as you aim to be a good master of ceremony of any church function in church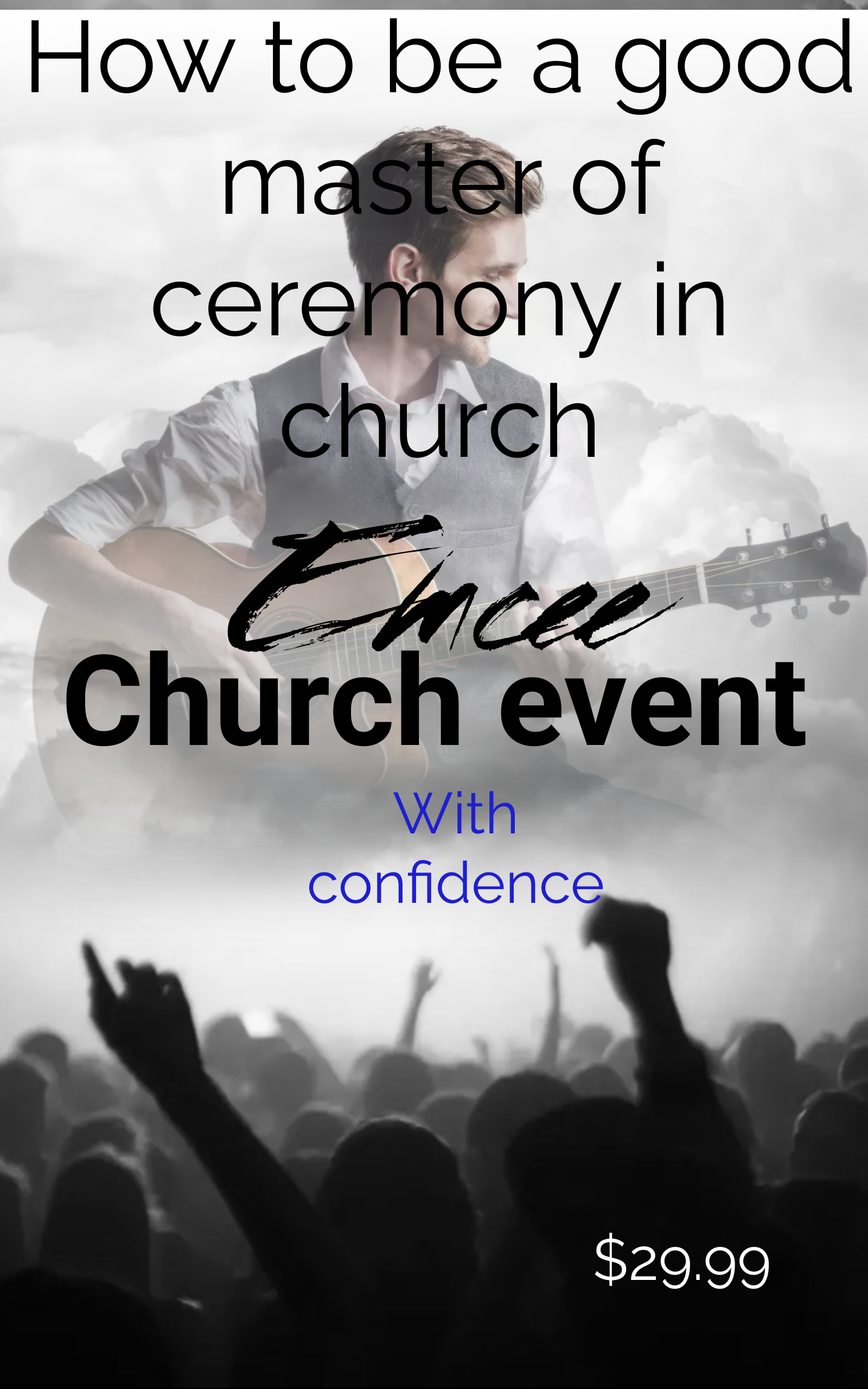 $29.99
How to be a good master of ceremony in church event

The above ebook that we have prepare for you will come at hand to help you be a good master of ceremony for church events.
We got that book because majority asked how can they be good master of ceremony, many wanted a guide from the beginning to the end. That is why we came up with an ebook which is a guide to help you prepare well to emcee any church event that you will have in the church calendar.
The book can be used with accomplished emcee or those who are beginning to work as emcee for church events.
Get practical guide that you can follow when you enter the stage and how you can keep the audience engaged from the beginning to the end.
We are sure once you get the ebook, can print it and keep it somewhere where you can keep on referring as you sharpen your emceeing skills which is a life long skill that can help you in any church event that will have in the church calendar.
We have also given an emcee script that comes at hand so that once you step on the stage will have something to refer to as you do the emcee work that you have been given by the organizers.

You can also quickly get the emcee script that we have prepared for you down here and it will help you at a low coast.

how to be a good master of ceremony in church event

Here we are talking of things done in Christian setting, no matter the role you are playing in church, just remember that you have a higher calling and God expect you to do it to your best.
Therefore, allow God to lead and guide you along the way.
This is done by giving Him an opportunity to reveal to you what ought to be done. That is how I learn to be a good master of ceremony who can master any situation or occasion in church when the need come calling.
You have to get ready all the time.
Take advantage of the Holy Spirit that God has promised to give freely, so that you can be guided on what to do.
Also, learn to know the audience that you will lead, by just looking at them you will be able to know what to do.
we have made it simpler by preparing for you a script that will take you through from the beginning to the end.
If you have not downloaded, please find it here church mc script and download not.
Another you don't need to forget is that, practice always in order to master  the art.
The following tips can help you be a good emcee towards a church event.

And keep practicing
role of church master of ceremony running a church program
We are here to help you become a good master of ceremony in a church step up event, trust that what we give here is prayed for and have been inspired.
We thank you for visiting our pages and are here to walk with you in this journey of becoming the great emcee of a church event.

Get FREE SAMPLE speech &letter


in the Email Today