church chairman speech during men day
Here is the church chairman speech during men day that you can download from our pages, the speech is ready to be downloaded instantly for use in the occasion that you are going to have.
Ladies, Gentlemen, and distinguished guests,

It is with great pleasure and honor that I stand before you today to mark another remarkable Men's Day in the history of our church. This is not just a day, but a celebration and acknowledgement of the immense contribution, influence, and commitment of the men in our congregation and our community at large.

Firstly, I want to express my heartfelt gratitude to God Almighty for the gift of life, good health, and the opportunity to assemble here today. Amidst the challenges we've faced due to the ongoing COVID-19 pandemic, we have learned gratitude, unity, and the immense power of prayer. As we celebrate our Men's Day today, it is my prayer that God continues to protect, guide, and shower each one of us, and our families, with abundant blessings.

I would like to take this opportunity to acknowledge all the men present here today. From those who've been with us right from the beginning to those who've just joined our church family. Your commitment and contributions do not go unnoticed, and today, we honor and celebrate you. Whether you are an usher, choir member, a part of our clergy, or simply a dedicated member of our congregation, this day is for you.

Your strength, wisdom, and leadership have greatly contributed to the growth and betterment of our church community. You've stepped up in various capacities, always ready to serve and help in the advancement of the kingdom of God. Today, we recognize not just your hard work and dedication, but also your relentless spirit, generosity, and the love you have for our church.

As we continue this joyous celebration, let us remember the sacrificial love that God has shown us. Let us strive to live up to the expectations God has for us, to be leaders in our homes and community, to set an example for the younger generation, and to spread love and kindness to all around us.

Moreover, let us remember to continue supporting each other, and especially our women and children. They are the backbone of our society, the heart of our community, and they deserve our utmost support and respect.

As we move forward, let's make every effort to deepen our faith, grow in fellowship, and strive to bring God's word to life in our daily actions.

Once again, I express my most profound gratitude to all the men here today. For our Men's Day is not just a celebration of who we are, but also a celebration of who we aspire to be; men of faith, of integrity, of compassion, and of service to God's people.

Thank you for being here and thank you for all that you do. I hope you enjoy this day set aside especially for you. May the peace and blessings of God Almighty be with us all, today and always. Amen.

God Bless You All.
church chairman speech during men day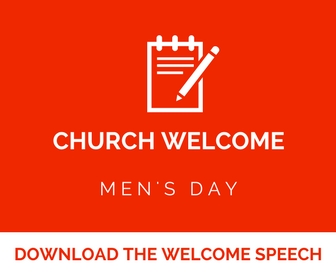 church chairman speech during men day
church chairman speech during men day
Your second block of text...
Get FREE SAMPLE speech & letter


in the Email Today