church welcome address
Here is your church welcome address
It is the church anniversary once again and you are prepared to deliver a church welcome speech to the church.
Your fellow church members,invited guests,your church pastor and many fellowship members are eager to hear what you are going to give as the one appointed to give an opening speech or welcome address.
And
Now you are caught up with time...Don't worry this site will save you lot of time thinking what you are going to say.
Save that time to do what is you love most and leave that to us to provide you with the best welcome message that will leave those in attendance merrymaking in their hearts for your lovely speech.
church welcome address sample

Here is a church welcome address sample

Good morning everybody,
Let me take this opportunity to welcome each and everyone
one of you who is attending our service today as a visitor or as a regular
member.

Let me say welcome and feel at Jesus' feet and His love is with us
His promises will never fail since He has told us that where two or three are
gathered in his name there he is. today we are more than two and are happy that
his presence is with us in this church.

Allow me to point out few important things that have brought us here today:
First, to the visitors, I want to let you know that this church love visitors and
we are happy that you have come to worship with us today,this place is a place
where everybody want to be. We are very much privileged to have you here today
as we share the fellowship that the Lord has provided for us

second, to the church members, I want to take this opportunity to extend a warm welcome to you all for your sincere prayers you have always offered to the church as a body of Christ and the invitation you extended to the first time visitors who have come to worship with us

It is because you extended your warm welcome and went ahead to show them our place so that the same joy that you experience in our fellowship. you also shared with the visitors.

we want to thank you very much for what you are doing. Let me say that don't stop doing that because even Abraham used to welcome visitors and one time he welcomed the angels who had a massage of salvation to him.
Therefore this morning on behalf of the church. I want to say. Welcome you all to our services.

And we have really prepared great and wonderful services that you will love
Thank you and God bless you so much.

church welcome address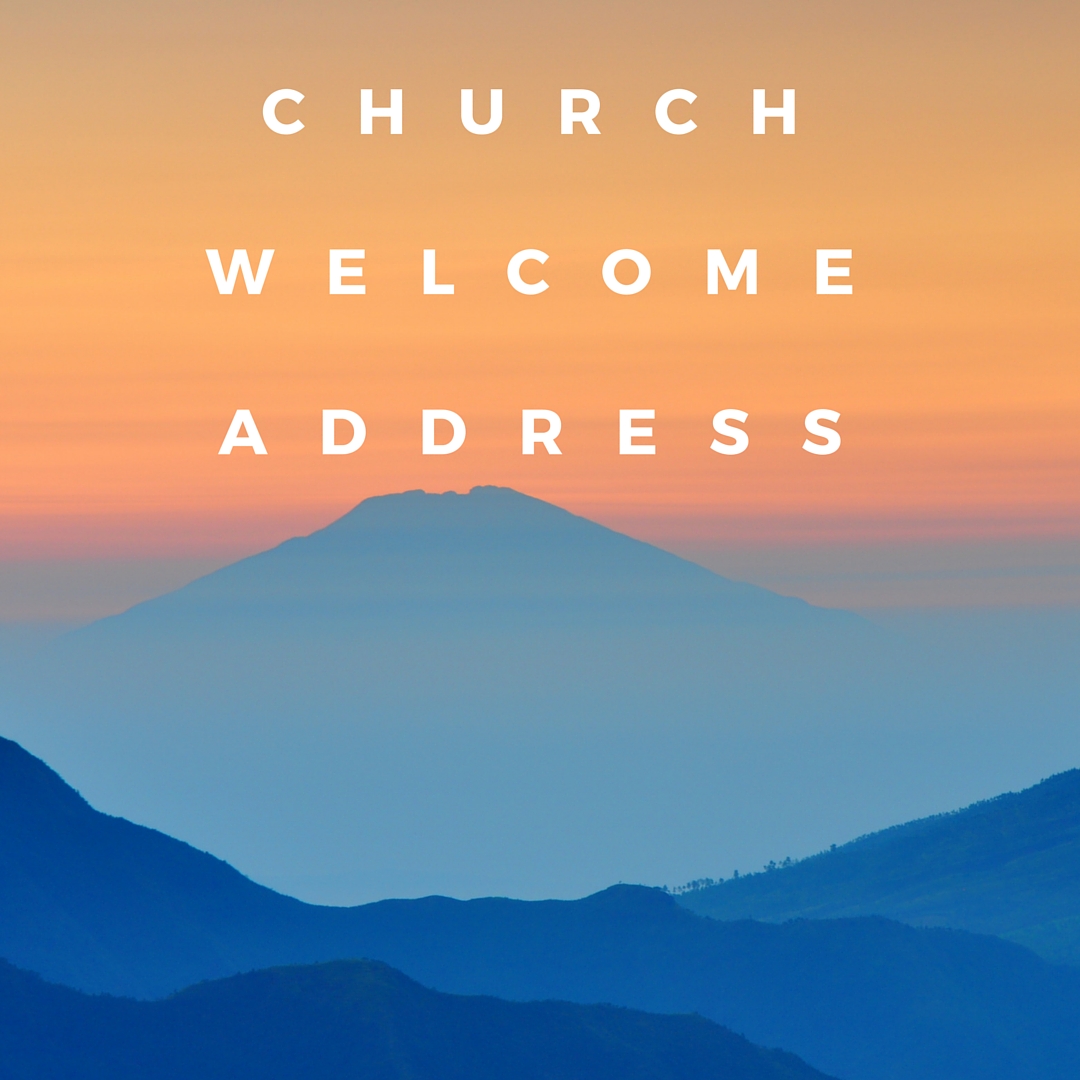 I greet you in the name of Jesus!
Let me take this opportunity to welcome you to today's service. We give God glory and honor for the opportunity accorded this day as we join together to worship Him.
We want to thank our loving God for the gift of life given to us freely.
The grace of God has seen us finish the week well and we are here thank God for all the care and the protection given to each of us here today.
Together we can all count the blessings bestowed upon us and praise the name of our Lord.
Let us always remain in the faith given to us through Jesus and cling to the promises knowing that God is with us always.
We can cry in the prayers that the love of God shall always be with us wherever we go.
God has promised to command the angels to protect us wherever we go.
Today's service will start by prayer then have the word of God delivered to us by our pastor. As you can read from the bulletin we have exciting activities during this day and be sure that after the service you will never be the same again.
Let the name of the Lord be glorified now and forever.
Welcome to our service and may the good Lord be with us through.
church welcome address
Good-morning children of the most high,
What a joy to be here this morning to worship our loving Lord
The week has been long with so many challenges but we thank God for this chance to come before His presence to seek for the blessings,
Let me extend a warm welcome to each and every one of you who have found time to be here
The Lord is good and the mercies are upon us always. We thank God for what has done to our lives and may he love forever,
The grace of God is sufficient to sustain us all along in this life,
Feel welcome and may the good Lord keep you always.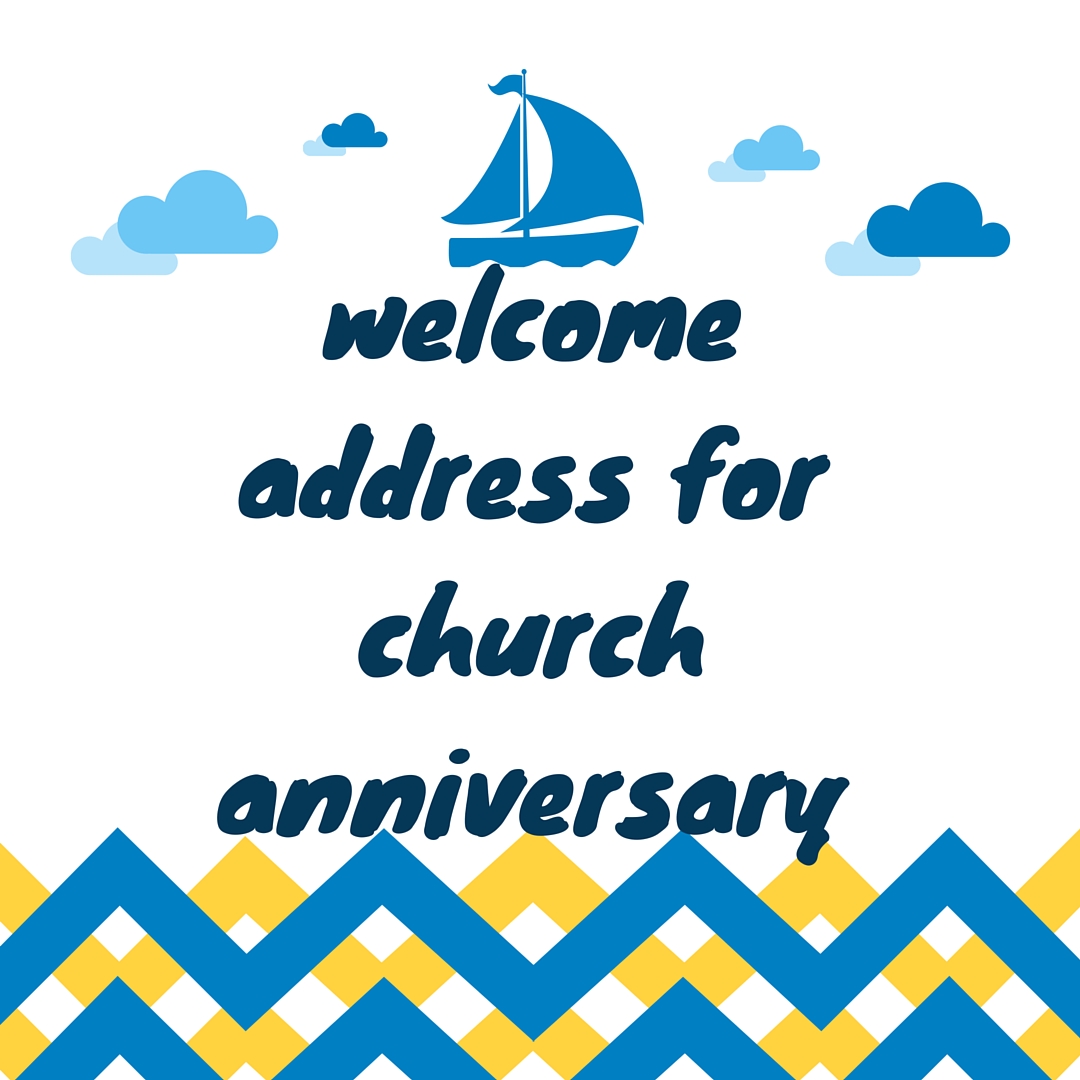 welcome address for church anniversary
FREE "HOW TO GIVE A SPEECH" eBook in the Email Today