Church Welcome Speech Sample
Looking for Church Welcome Speech Sample ?
Here is a free sample to have a look at. You can customize to make it fit your church setting.
Here is what you need to have in mind when giving welcome speech to your church

Three essential welcoming speech part
acknowledge all those in attendance
give them an introduction of what brought them to that day and also take the opportunity to share with them your beliefs and what the church stands for.
Church Welcome Speech Sample
A welcome speech

Let me take this opportunity to welcome each and everyone of you to our church service. And a very warm welcome to those who are attending for the first time. Whether you were passing by or you are looking for a warm place to worship.
We take this time to welcome you in a wonderful way.We are a body of Christ and we love everyone whether it is your first time or second time and so on.Our mandate here is to love one another so that the joy of the Lord maybe full in our hearts.
Firstly, we believe in Jesus Christ as our Lord and savior and we extend the olive to those ones who are new to make Him their personal savior because he is the way,the truth and the life and no one comes to the father except through Jesus Christ.
As his followers we care about you and all other people. We are here for the purpose of sharing his love and care because that is the command that he left us to do when he ascended to the father.That is what makes us gather each week here.I want to encourage those who are new to fill a form that is found at the back of the bulletin. Just write your names and e-mail address since we would love to get in touch with you and cement this relationship we have created here today.And if you have specific prayer request you can also write it down so that we can remember you in our prayers.
Enjoy your stay here and what do we say to the visitors as members ( members can welcome the new visitors in one accord)And then take the opportunity to welcome them regularly to the church service.
SPEECH SAMPLE TWO
Church Welcome Speech Sample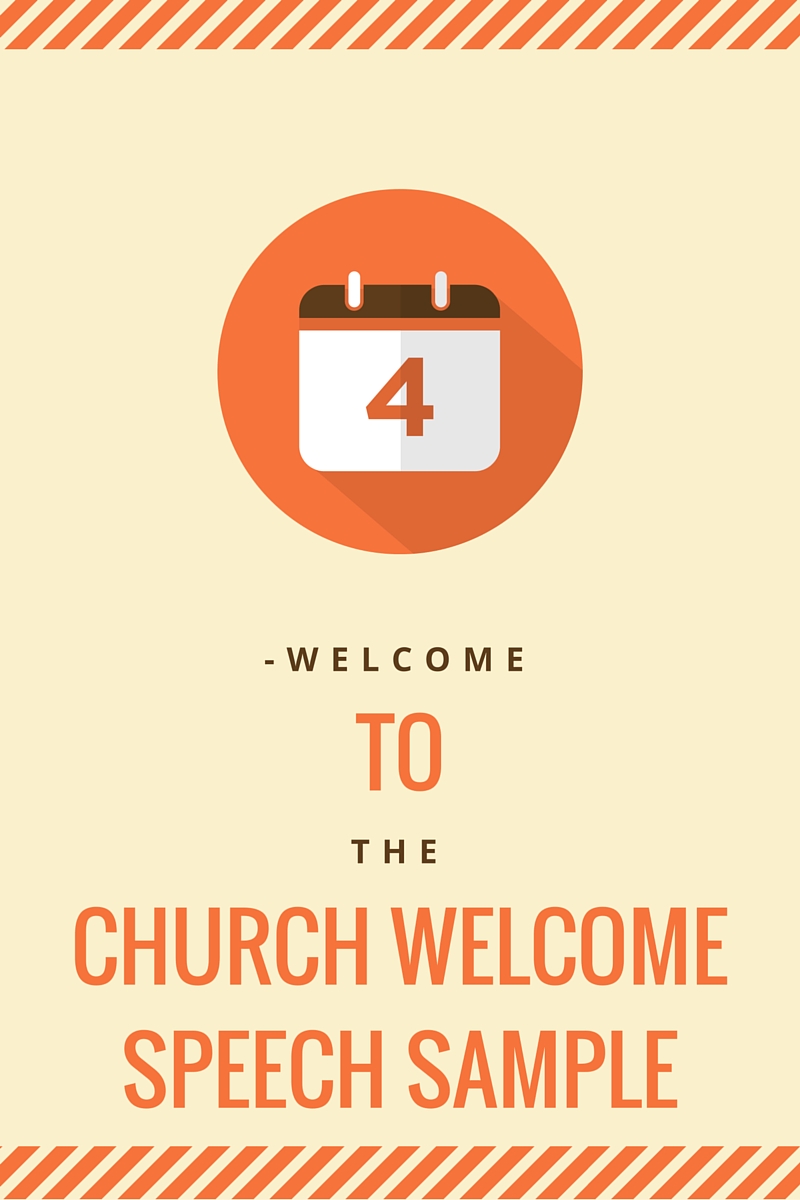 Our pastor, the first lady of the church,the invited guests who have joined our church for the first ti me
my fellow church members and the church of Christ at large I greet you in the name of Jesus Christ,
Let me take this opportunity the Lord Has given us today here to thank Him in a mighty way for His love and care,
Let me welcome you all to our service today and feel at Jesus feet because He love us and care for us so much that He gave His life for us to be alive.
We have a great Hope as a Church to praise the name that the Lord Has given us and that name is Jesus Christ.
Welcome visitors and my fellow church members who believe in Jesus Christ.
church welcome speech sample
I greet you in Jesus name!
What a joy in our hearts today to meet here once again so that we can glorify our loving Father who is in heaven.
Nobody can claim that you would see this day on your own where it not for our loving God though the grace that we have in Jesus who is our Lord.
Greet your neighbor and tell him or her Jesus loves you!
Before we pray together. Let reflect back on how much the Lord loves each and every one of us that we are able to smile.
Imagine how many are in bed sick and others have lost their loved one as we are speaking now.
Let us now pray to our God as we begin this service of the day.
other related church welcome speech sample articles
church homecoming welcome speech
church anniversary speech
Totally Free church occasion speech in your inbox