Remarks for church men day
Here is the remarks for church men day to help you during the occasion in the church.

You can download instantly the welcome for men's day program given below and start using it.
The welcome speech is a two page formatted well and it's in PDF.
We have partnered with PayPal and once you pay through them, you can get the speech instantly.
If you don't have PDF software in your computer, you can download for free through this link,PDF download,
But if you already have installed it then you can now proceed to download the welcome for men day program speech below here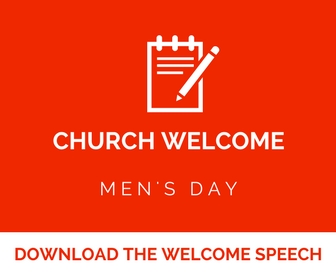 A 2 page speech for $7.99
We hope the above welcome speech will serve you will during the occasion in the church that you will hold soon.
If it didn't meet your expectation,you can still contact us using the form below and give us the specification you want then we can write it for you.
We shall not charge you anything but shall write and deliver it through the email.
Other let us wish you all the best as you prepare yourself to speak for the upcoming men's day in the church.
We pray to our heavenly Father to fill you with the Holy Spirit as you speak and we pray for the day to be successful and our Lord to shower you with much blessings during the occasion.
Greetings in Jesus!
Let me take this opportunity to thank our God for the wonderful love shown to us this morning as we start this program.
We want to give honor and glory to His name because of His faithfulness,His mercies has enabled us to congregate here during this men's day in our church.
Allow me to welcome each and every one of you who has traveled from far and wide to come and join us in our church......
****just a sample******
If you want the full speech which is well formatted then you can download now and print it from your computer,
It is easy and straight forward, there are no complexions on the way.
with your $ 7.99 you can get a two page welcome speech for the occasion in the church.
The normal rate charged everywhere is $10 per page but here we have given a discount and you will only pay $7.99 for the two pages and you will get your welcome speech

remarks for church men day
You can also enjoy other church information given below here.
speeches during men church day
Return from remarks for church men day to church pastor guide -Home page

FREE "HOW TO GIVE A SPEECH" eBook in the Email Today