welcome address for church
Looking for welcome address for church?
You have landed this page as a minister of the gospel or a pastor.
You might be a person in a leadership role in a church and you are tasked to provide a welcome address in the church during a service or an event happening in the church.
We are here to give you direction on what to do.
We shall save you that precious time you have always wanted to have because we promise satisfaction to your desires.
If you want samples to inspire you. we have one or two at the end of this page.
But if you want a modified speech which is ready to be used and you only change one or two words in it then you need to jump now to this special page and download one for you to use.
Here is the special page,welcome to church
You will find all the speeches for any occasion in the church. You need to subscribe once and you will use the materials for 5 years.
Even if you will not need it yourself but your church need the materials for use.
We always celebrate anniversaries in the church and many more.
We don't promise to let you down but we are sure of our strength which cut across.

welcome address for church -Sample to watch

I picked a speech from YouTube that you can watch and see how you can give welcome address for church in the occasion

(courtesy of Spring of Hope Church Of God In Christ)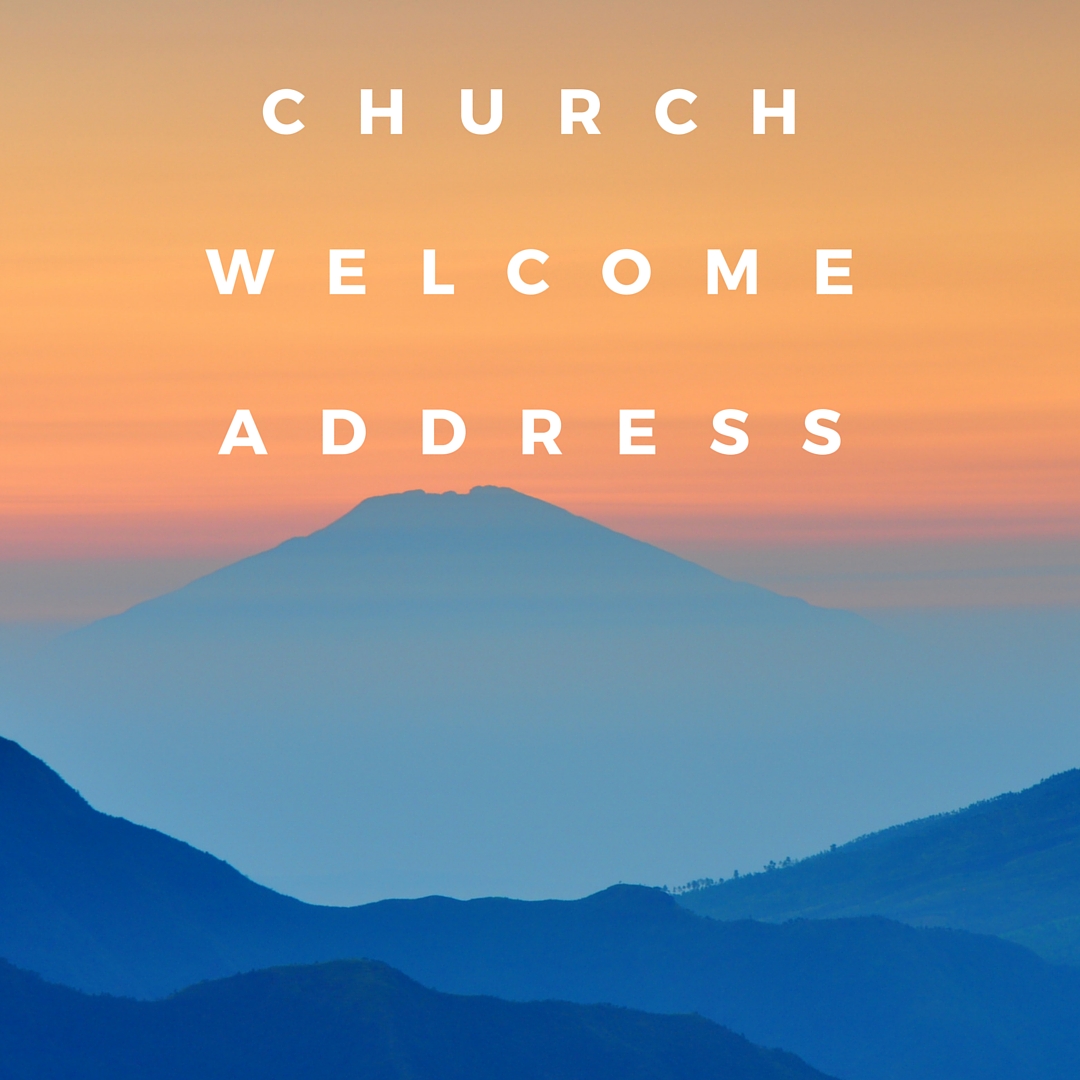 We do this on a daily basis.
Writing speeches and church addresses is our daily bread.
We update this page and the site with new speeches that are inspired by the Holy spirit.
If you need a speech to download go to this page and get one that you love to pick.
All the speeches and addresses are there for you to use and our work is to make them available for you to have them.
If you are not ready for a modified address right now, then you can get inspired by the sample below here.
The address below take into consideration that you have the event in the morning and you are in the church for the weekly worship in your church.
Your pastor is present and also invited guests are with you.
Here is the sample for welcome address for church

welcome address for church
Our Church pastor(insert his name here),church members and all the invited guests present,

Good morning saints of the Lord,
How have you been?
Let me take this opportunity given by our almighty God to welcome you to our special worship hour this day,
How good it is to be in the house of the Lord worshiping the lord,
We want to thank our God for allowing us to worship Him during this day,
We know that our God has prepared a word that will nourish our hearts and help us to know God well,
Thank you for the ear and may the good Lord be upon you until we finish in the name of the Lord Jesus Christ.

The above is just s ample of what you expect to get in the special page that is created for you and your church.
If you want to download an address that is ready to be used then visit this page ,welcome to church special materials

May the Lord be with you as you prepare to give an address in the church during the coming hour of the worship in the church

FREE "HOW TO GIVE A SPEECH" eBook in the Email Today