church Easter speech
Looking for church Easter speech?
Thank you for landing in our page, we have a modifiable speech and

free speech that can inspire you to write one.
As you going to learn from this page our work is to produce quality churches speeches for you.
whichever occasion you have in church we have a speech for it.
I know you are asking yourself where is the church Easter speech that I'm looking for?
Since you don't have time to keep on learning.
You can click on this welcome to church page and download modifiable church Easter speech from it. It is a PDF file and you only right click and save it or print it to read in church or just get an idea and have your own words in place.
One reason we have confident on our work is because this is what we do daily.
We have mastered the art and you can imagine the outcome.
If you have time and have followed me up to this stage then let us keep moving. Below here are samples of speeches that you can have a look at and get inspired.
Our aim is to save you that precious time you need so that you can concentrate on things that you love in life.
We bring to you total happiness that you cannot find anywhere else.
Have a look at samples we have given you below here.

church Easter speech sample

You can love this church Easter speech that is biblical and scriptural.....
Our Church pastor and the first lady,church fellow church members
And the guests who have come to celebrate with us today as we mark this
Easter holidays in our church,we thank our loving father for allowing us to participate
in this great event in our church calender and fellow brothers and sisters in Christ
Allow me to pick up a chapter in the scripture that sums up all that Christ did for us
which makes us to remember that great work that Christ did for us...Isaiah 53 it says
Who has believed our message
    and to whom has the arm of the Lord been revealed?
 He grew up before him like a tender shoot,
    and like a root out of dry ground.
He had no beauty or majesty to attract us to him,
    nothing in his appearance that we should desire him.
 He was despised and rejected by mankind,
    a man of suffering, and familiar with pain.
Like one from whom people hide their faces
    he was despised, and we held him in low esteem.
 Surely he took up our pain
    and bore our suffering,
yet we considered him punished by God,
    stricken by him, and afflicted.
 But he was pierced for our transgressions,
    he was crushed for our iniquities;
the punishment that brought us peace was on him,
    and by his wounds we are healed.
 We all, like sheep, have gone astray,
    each of us has turned to our own way;
and the Lord has laid on him
    the iniquity of us all.
 He was oppressed and afflicted,
    yet he did not open his mouth;
he was led like a lamb to the slaughter,
    and as a sheep before its shearers is silent,
    so he did not open his mouth.
 By oppression and judgment he was taken away.
    Yet who of his generation protested?
For he was cut off from the land of the living;
    for the transgression of my people he was punished.
 He was assigned a grave with the wicked,
    and with the rich in his death,
though he had done no violence,
    nor was any deceit in his mouth.
 Yet it was the Lord's will to crush him and cause him to suffer,
    and though the Lord makes his life an offering for sin,
he will see his offspring and prolong his days,
    and the will of the Lord will prosper in his hand.
 After he has suffered,
    he will see the light of life] and be satisfied;
by his knowledge my righteous servant will justify many,
    and he will bear their iniquities.
 Therefore I will give him a portion among the great,
    and he will divide the spoils with the strong,
because he poured out his life unto death,
    and was numbered with the transgressors.
For he bore the sin of many,
    and made intercession for the transgressors.

I welcome you all to our child and may the blessings of the Lord be upon you all.
Other related Easter Holidays articles
 church Easter speech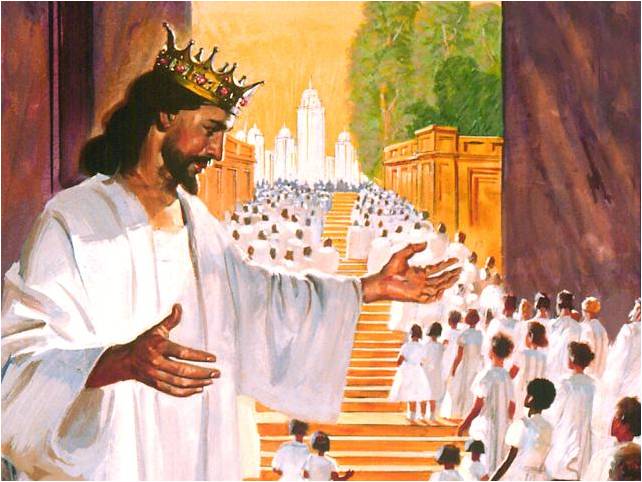 That you can share with other fellow Christian in your church as you share with each in remembrance to the death and resurrection of Christ who is our savior.
This Easter season is very important in the church calender because it reminds us what Christ did and the purpose that He came to fulfill on earth as a human being.
how God anointed Jesus of Nazareth with the Holy Spirit and power, and how he went around doing good and healing all who were under the power of the devil, because God was with him.Acts 10:38

I'm sure in your church you are well to celebrate this season of Easter with great love that Christ left us to fulfill.
The commandment in 1 John 4:21

FREE SAMPLE SPEECH


in the Email Today